Tags: waterfall
May 23rd, 2015
The Forest Service announced completion of access to an 80-foot waterfall in the Pisgah National Forest near Marion last week.
The Falls Branch Trail is now a paved half-mile walk to a wheelchair accessible observation deck at the foot of Toms Creek Falls (below). The Forest Service news release calls it "a breathtaking 80-foot cascade."
The small recreation area also provides parking off of Huskins Branch Road in McDowell County.
Huskins Branch is 12 miles from I-40 exit 85 on U.S. 221 North. The recreation area is 1.2 miles farther to the left.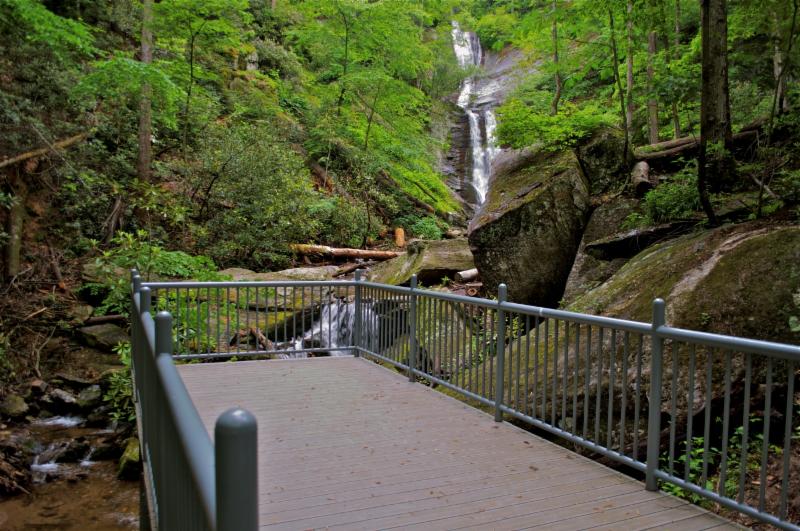 July 29th, 2014
It's known to many simply as "the Cascades," but the easily accessible Blue Ridge Parkway waterfall is a part of the larger family-friendly E.B. Jeffress Park.
The hike to the waterfall is an easy-to-moderate one-mile round-trip with only a very slight elevation change and a narrow stairway making it more than an easy stroll. The park also has a nice picnic area and a log cabin and log church on a wide lawn that's an easy half-mile walk from the parking lot.
Check out Carolina Outdoors Guide's new page about the Blue Ridge Parkway's E.B. Jeffress Park and the Cascades and Tompkins Knob trails.
The Cascades at the Blue Ridge Parkway's E.B. Jeffress Park as seen from the lower overlook. Click on the photo or the link above for more information.